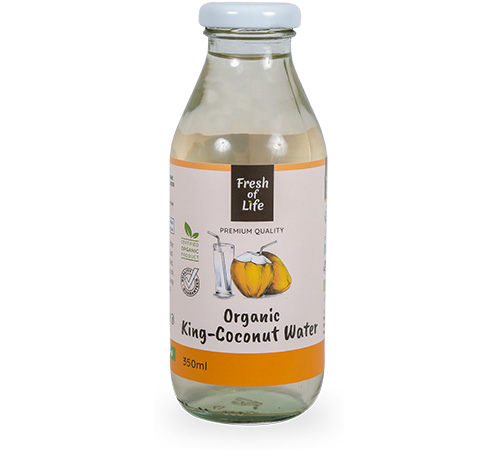 Organic King Coconut Water
Fresh of Life Organic King Coconut Water is a very healthy choice to keep your health up to the mark. King coconuts are highly produced in Sri Lanka; our customers have a very high preference to consume Fresh of Life Organic King Coconut Water on a daily basis. It has a naturally sweet taste with no artificial ingredients. So, enrich yourselves with this pure and healthy beverage and relish the natural flavour of this amazing drink. Also, it has a content of vitamin C naturally present in it.
Serving Size: 100 ml
Calories
35
Sodium
21 mg
Total Fat
0 g
Potassium
77 mg
Saturated
0 g
Total Carbs
8 g
Polyunsaturated
0 g
Dietary Fiber
0 g
Monounsaturated
0 g
Sugars
8 g
Trans Fat
0 g
Protein
0 g
Cholesterol
0 mg
Vitamin A
0%
Calcium
1%
Vitamin C
5%
Iron
1%

*Percent Daily Values are based on a 2000 calorie diet. Your daily values may be higher or lower depending on your calorie needs.
Contains anti-bacterial and anti-viral properties, boosts up skin health
Improves digestion, metabolism and prevents dehydration
Helps to treat various diseases like diarrhea, cholera and constipation
Consists of specific vitamins and minerals
Use it as a part of your healthy balanced diet
Helps prevent bacterial viral and fungal infections.
Inquiry