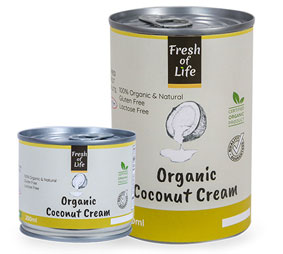 Organic Coconut Cream
Experience a thick and rich form of creamy delight by using Fresh of Life Organic Coconut Cream, that blends your taste and gives a distinct flavour to your coconut based recipes. We make it with an unsweetened taste as there is no added sugar in it.
Serving Size: 100 ml
Calories
205
Sodium
26 mg
Total Fat
22 g
Potassium
0 mg
Saturated
18 g
Total Carbs
3 g
Polyunsaturated
0 g
Sugars
0 g
Monounsaturated
0 g
Dietary Fiber
1 g
Trans Fat
0 g
Protein
1 g
Cholesterol
0 mg
Vitamin A
0%
Calcium
0%
Vitamin C
0%
Iron
3%

*Percent Daily Values are based on a 2000 calorie diet. Your daily values may be higher or lower depending on your calorie needs.
No added sugar
Breaks up stored body toxins which build up due to cooked fats, cholesterol and certain medications.
Contains anti bacterial and anti fungal properties
Helps boost up good cholesterol
Cook rich creamy curries, sauces, smoothies, desserts and ice creams
Make a creamy topping for your fruit and vegetable platters
Inquiry