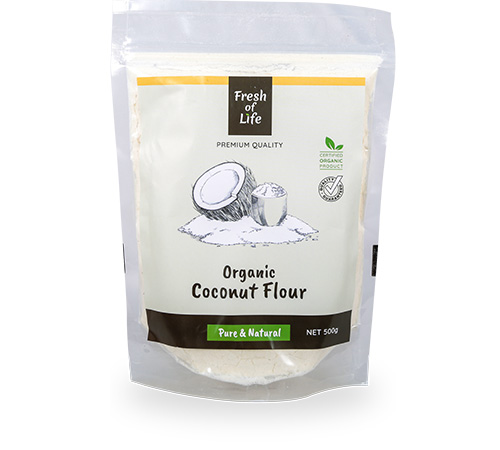 Organic Coconut Flour
Having a unique property of differentiation from other flours, Fresh of Life Organic Coconut flour is a low carb ingredient with digestible calories. We make it completely from well dried and rich coconut cake without including grains, nuts or seeds in it. Being rich in nutrients and versatile in many recipes, it is low in fat content. At the same time, it has an enjoyable and distinctive taste of coconut.
Serving Size: 100 g
Calories
254
Sodium
118 mg
Total Fat
8 g
Potassium
0 mg
Saturated
8 g
Total Carbs
36 g
Polyunsaturated
0 g
Dietary Fiber
22 g
Monounsaturated
0 g
Sugars
3 g
Trans Fat
0 g
Protein
10 g
Cholesterol
0 mg
Vitamin A
0%
Calcium
3%
Vitamin C
0%
Iron
42%

*Percent Daily Values are based on a 2000 calorie diet. Your daily values may be higher or lower depending on your calorie needs.
Contains digestible carbohydrates and is a gluten free ingredient
High in fiber, protein and has sufficient amount of healthy saturated fats
Contains low sugar and calories, supports a stable blood sugar level
Good for digestive problems
Use it as a great choice for baking and cooking your favourite sweet and spicy recipes
Make a thick base for your soups and curries using Fresh of Life Organic Coconut flour
You can make wraps, crusts and also use it to make a crunchy coating to your recipes
Inquiry