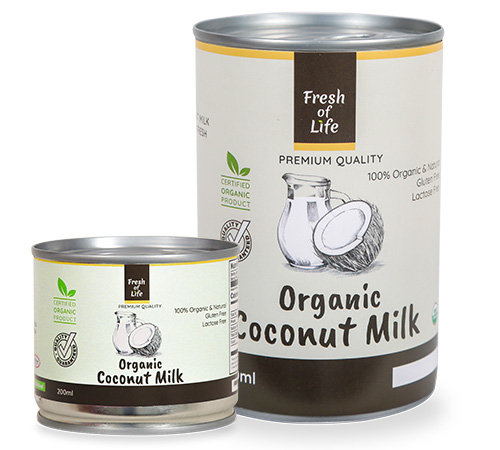 Organic Coconut Milk
Fresh of Life Organic Coconut Milk is a remarkable product made out of the natural extract of coconut kernel and contains several important vitamins and minerals such as selenium, potassium, phosphorous, magnesium, Vitamins C, E and B, which involve a number of health benefits.
Serving Size: 100 ml
Calories
179
Sodium
13 mg
Total Fat
17 g
Potassium
0 mg
Saturated
15 g
Total Carbs
3 g
Polyunsaturated
0 g
Dietary Fiber
0 g
Monounsaturated
0 g
Sugars
3 g
Trans Fat
0 g
Protein
0 g
Cholesterol
0 mg
Vitamin A
0%
Calcium
0%
Vitamin C
0%
Iron
3%

*Percent Daily Values are based on a 2000 calorie diet. Your daily values may be higher or lower depending on your calorie needs.
Good source of energy, including certain important minerals and vitamins
Rich in healthy fiber that helps in metabolizing saturated fats
Gluten free, dairy free, grain free
Rich in antioxidants that help boost up the immunity level of the body
Cook deliciously creamy sauces, soups, delightful dessert preparations and smoothies
Use it for preparing curries with a mild creamy base, by mixing warm or hot water in a suitable proportion.
Adding a small amount of Fresh of Life Organic Coconut Milk to tea or coffee will give you an amazing experience of taste.
Inquiry