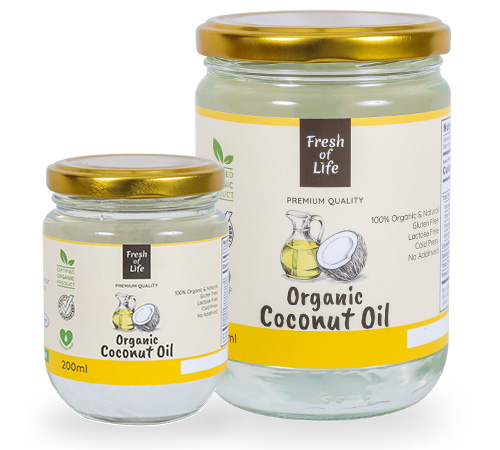 Organic Coconut Oil
Enhance the taste of your recipes and enjoy health and skin related versatile benefits by using Fresh of Life Organic Coconut Oil, as it is an amazing alternative to butter and other vegetable oils. It is freshly extracted from dried coconut kernels, thus maintaining the natural taste and fragrance.
Serving Size: 100 ml
Calories
870
Sodium
0 mg
Total Fat
93 g
Potassium
0 mg
Saturated
87 g
Total Carbs
0 g
Polyunsaturated
3 g
Sugars
0 g
Monounsaturated
3 g
Dietary Fiber
0 g
Trans Fat
0 g
Protein
0 g
Cholesterol
0 mg
Vitamin A
0%
Calcium
0%
Vitamin C
0%
Iron
0%

*Percent Daily Values are based on a 2000 calorie diet. Your daily values may be higher or lower depending on your calorie needs.
Helps to produce good cholesterol in the body
As a part of our diet, it increases the metabolic rate in the body
Strengthens the immune system
Contains anti bacterial and anti fungal properties
Promotes nutrient absorption and helps in weight loss
Use it for baking, cooking and frying your favourite recipes
Apply it on your hair and skin for encouraging nourishment and healing
Inquiry