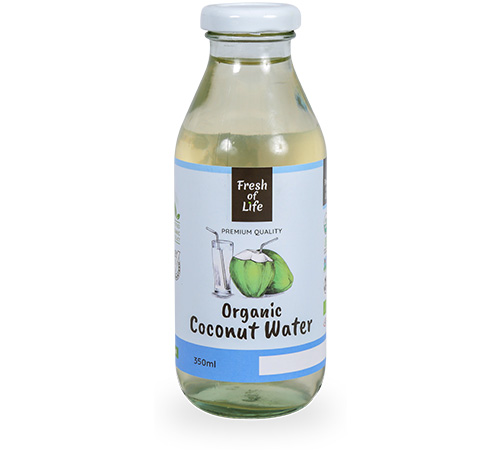 Organic Coconut Water
Make your days refreshing and nutritious by consuming Fresh of Life Organic Coconut Water. We take out the coconut water from the freshly harvested coconuts, for you to relish the natural purity it has in its taste and also, considering it to be highly capable of providing a variety of health benefits and healing properties. Keep yourself hydrated with Fresh of Life Organic Coconut Water that helps reduce stress and relaxes your muscles.
Serving Size: 100 ml
Calories
19
Sodium
23 mg
Total Fat
0 g
Potassium
186 mg
Saturated
0 g
Total Carbs
5 g
Polyunsaturated
0 g
Dietary Fiber
0 g
Monounsaturated
0 g
Sugars
4 g
Trans Fat
0 g
Protein
0 g
Cholesterol
0 mg
Vitamin A
0%
Calcium
1%
Vitamin C
0%
Iron
0%

*Percent Daily Values are based on a 2000 calorie diet. Your daily values may be higher or lower depending on your calorie needs.
Naturally sweet and fat free
Contains multiple vitamins and minerals for good health
Helps to reduce fatigue and stress
Prevents dehydration and helps to detoxify the body from illness
Helps to lower down blood pressure and cholesterol
Use it as a healthy beverage while doing sports and strenuous activities
Consume it to lower down health illnesses like nausea
Inquiry