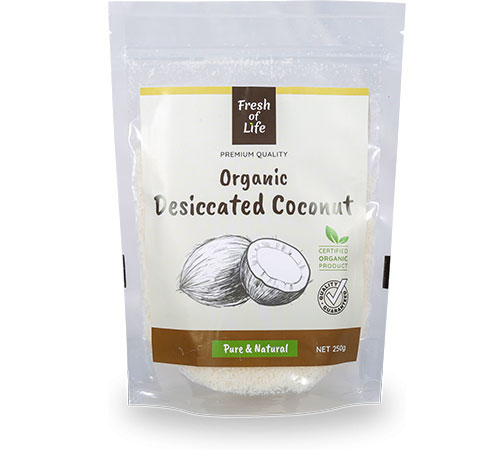 Organic Desiccated Coconut
Fresh of Life Organic Desiccated Coconut is prepared from the white kernel of the freshly selected mature coconuts. It is dried and the form of coconut meat which retains the oil and protein of the coconut. You will experience a distinctive flavour and aroma of the coconut.
Serving Size: 100 g
Calories
648
Sodium
50 mg
Total Fat
62 g
Potassium
0 mg
Saturated
53 g
Total Carbs
6 g
Polyunsaturated
0 g
Dietary Fiber
21 g
Monounsaturated
0 g
Sugars
6 g
Trans Fat
0 g
Protein
6 g
Cholesterol
0 mg
Vitamin A
0%
Calcium
3%
Vitamin C
2%
Iron
18%

*Percent Daily Values are based on a 2000 calorie diet. Your daily values may be higher or lower depending on your calorie needs.
Contains high nutrition value
Involves healthy fats
Enhance the taste of your curries, cakes, pastries, biscuits and chocolate recipes using Fresh of Life Organic Desiccated Coconut as fillers or toppings
Use it as an ingredient in cooked cereal
Inquiry