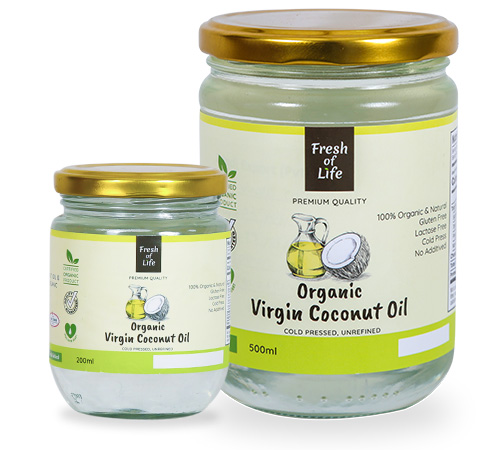 Organic Virgin Coconut Oil
Fresh of Life Organic Virgin Coconut Oil is made with utmost care and importance for you to experience the multiple rich benefits that it is comprised of, beyond limits. Our Organic Virgin Coconut Oil is committed to provide a delicious taste, natural fragrance and healthy nutrition. In order to make it unrefined and free from chemical procedures, we extract it from fresh coconut kernels without any involvement of high temperature and sunlight. So, enjoy using Fresh of Life Organic Virgin Coconut Oil for a healthy heart, healthy skin and healthy hair.
Serving Size: 100 ml
Calories
872
Sodium
0 mg
Total Fat
99.8 g
Potassium
0 mg
Saturated
81 g
Total Carbs
0 g
Polyunsaturated
0 g
Sugars
0 g
Monounsaturated
0 g
Dietary Fiber
0 g
Trans Fat
0 g
Protein
0 g
Cholesterol
0 mg
Vitamin A
0%
Calcium
0%
Vitamin C
0%
Iron
0%

*Percent Daily Values are based on a 2000 calorie diet. Your daily values may be higher or lower depending on your calorie needs.
High content of vitamins, antioxidants, minerals, medium chain fatty acids and sufficient amount of protein and energy.
Nutritious and unrefined
A great support to the immune system in the body
Helps stabilize cholesterol
Ability to cure skin ailments
Use it as topping to a variety of healthy salads and recipes.
Spread it on your favourite bread or muffin to enjoy the tropical flavour.
Inquiry